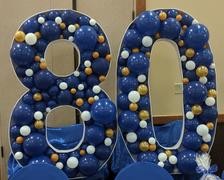 5 foot Mosaic Shadow Box celebrate the New Year, a Graduate or birthday!
Exciting, Fun decor for you event!!! 
These are just some of the possibilities for Special Events,
Corporate, School, Exhibitions, Fundraisers, Wedding Decor
To be paid in full upon receipt of the confirmed agreement/invoice sent to reserve installation date and time.  
Additional fees are considered for your invoice.
Styling Consultation fee:
Delivery
Installation
Rentals
Strike
Tolls
Parking 
Distance
Additional sourcing services
Invoices made within 14 days of event
Orders canceled within 24 hours of being invoiced: 20% service charge – 80% refund
Orders canceled with 2-11 days of being invoiced: 50% service charge – 50% refund
Orders canceled with less than 72 hours notice: 100% service charge – 0% refund
Minimum needed prior to event:     
If supplies and not in inventory, please allow 10 business days due to supply chain issues
Float times vary depending on balloon size, balloon type, elevation, and whether or not they are used indoors or outdoors. Please call for more details.
Sample Float Times at Sea Level, Indoors
Example: Arch float time estimate is 20 hours
Optional:  Balloons Treated with Hi-Float lasts 3-5 days
Please be sure to let me know if decor is for outside or inside
11-inch latex without Hi-Float® treatment: 20 hours
11-inch latex with Hi-Float® treatment: 3-5 days
16-inch latex without Hi-Float® treatment: 40-45 hours
16-inch latex with Hi-Float® treatment: 3-5 days
Mylar balloons: Remain full for 3-5 days but will float 14-30 days