Personalized greeting cards - custom made
Perfect for your balloon delivery​​ – $20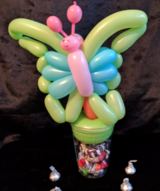 Theme Treat Cups
Save yourself time!
Let me create your Party Favors with a twist.
Balloon sculpture holds small wrapped candy or other small toy favors in the cup.  Balloon sculpture is a bracelet that they can wear.
Starts at $20 each.
Imagine a crew of Spiderman, Trains, Princesses Unicorns!!!
Fortune Kookie Cookies - 100 pieces each
Made Fresh for your event
Pre-order 5 business days before event
Delivery free when combined with entertainment or decor delivery
Customized inserts!
Hand Crafted Custom Take Out Box
holds 100 cookies – $130.00
* Individually sealed and wrapped
* Chocolate, vanilla, strawberry, green tea flavor. Sorry, no mixing of flavors
Rush is 4 days add $20 – $ 20.00
Delivery only  – $  30.00
service only available in SF, Daly City, Colma
New at factory – Belgian Chocolate –

$ 3.00


Dipped with sprinkles!!!  Minimum order 12 cookies
Cotton Candy
lots of Kosher flavors to choose from: – $6.00 each
Banana
Birthday Cake
Blue Raspberry
Bubble Gum
Cherry
Chocolate
Grape
Lime
Orange
Pina Colada
Pink Vanilla
Strawberry
White Citrus
Winter Frost – Peppermint
Non-kosher
Delivered:
– Individually wrapped in an ice cream cone
– Additional $1 to have cone dipped in chocolate or see Rental service
Customized hand sanitizer 2oz
Captain America Figit Spinner Metal
two sided spiral in/out – $15.00 each
* Limited supply
Animal Alliterati
An Alphabet Adventure, written and illustrated by Travis Tom. Animal Alliterati is an alphabet book fully illustrated with animals from A to Z. The book is written in alliteration for each letter of the alphabet making it a quirky tongue-twisting fun read. For example: "An alligator, ant and astronaut ate apples and asparagus alone at an art agency". The coloring book version is in PDF format in black and white with outlines and allows the user to print the pages to their heart's desire on a home printer for personal use only. Have fun coloring!
Now the eBook is available in the iBookstore, NOOK and Lulu.com
www.hi-artpress.com