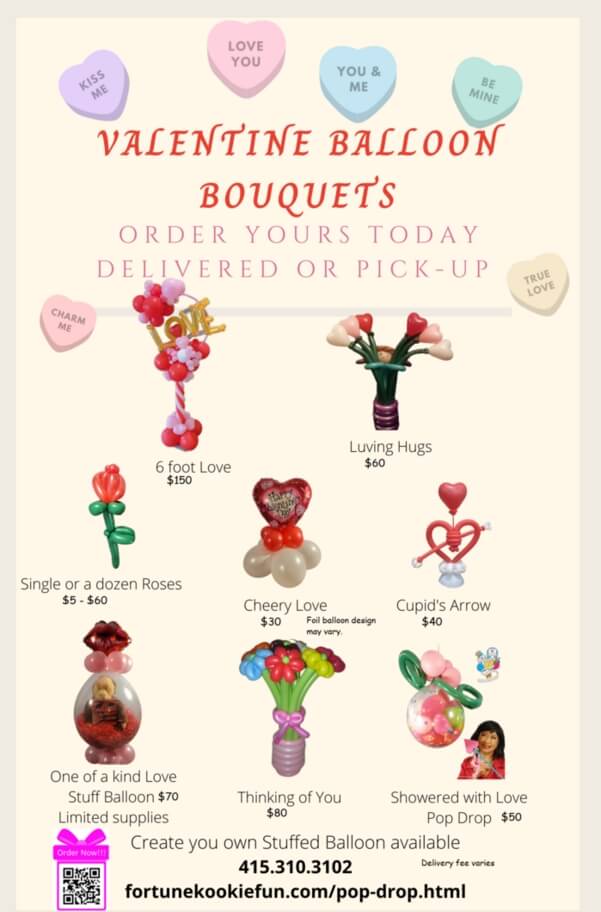 Stuffed Balloon Service with your items $25
Give your special occasion the extra Wow!!!
Optional: Special party favors inserted. I.E flower petals, feathers, loving treats. Blinking lights tied to the neck of balloon. Limited to your imagination. $5 and up
​Personal Balloon Pop Drop delivered to you
​Includes:
Colorful Mini balloons
Confetti
Message banner revealed when popped to celebrate the occasion

Happy Birthday
I Love You
Congratulations
Customize your message

Special popping wand with safety starpoint that you fold down to reveal pin
​​​Order yours to Celebrate
Valentine's (filled with heart balloons)
Birthdays
Graduation
New Year's
14 plump mini hearts in 18″ clear balloon $50
25 mini round balloons in 18″ clear balloon $50
100 mini round balloons in 3 foot round balloon in your color choice $150
​Personalization available
(see Pricing chart)​
Deliveries will be tied to door,
Picture taken and texted to you that your balloon drop has arrived.
Local Delivery Service Areas $20
San Francisco, Daly City, Colma, San Bruno
for NYE and Valentine's only
Minimum delivery order $60
Additional Service areas year round. Delivery fees vary
Pacifica, Woodland, San Mateo, Marin, Sausalito, Tiburon, Oakland
Send payment to :
Venmo – 415.310.3102
Zelle – FortuneKookieFun
Paypal – Happy@FortuneKookieFun.com
Credit card – add 5% processing convenience